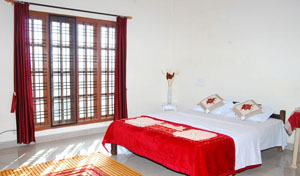 We have 5 guest rooms, all ensuites, spacious, modern and simple.
We have 1 room on the ground floor and 1 Dormitory. 1 room on the 1st floor and 3 rooms on the 2nd floor.
The rooms have a common sitting area, with a beautiful view of the hills and the sunrise. A perfect place to have coffee with your family and kick start your morning.
Breakfast is complimentary.
We have an open terrace which has a breath taking view of hills and paddy fields. If you are lucky, you can spot a few parrots in the evening.
Timing:
Check-in: 12:00 PM
Check-out: 10:00 AM
Breakfast:  8:30 AM to 9:30 AM